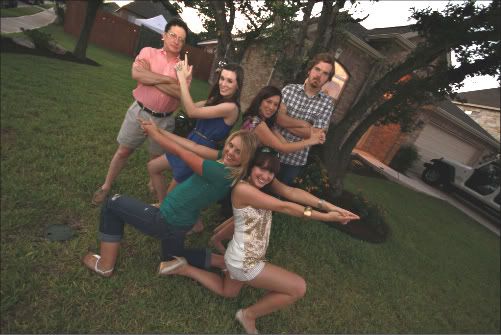 When I first joined Ketner Group in 2007, I knew very little about running a business, and just enough about PR to convince them I was the best candidate for the entry-level position. I was given a gigantic desk in a room all to myself (one of the "perks" of small business I am glad we grew out of – it was so lonely!) and thrown into client work 8-5, 5 days a week, while all my friends were still off procrastinating away senior year. (I was the dork that graduated early.)
The past three and a half years have taught me more than I could have imagined, and one of the best parts of it has been learning bit by bit about how a small business is run and the secret ingredients to doing it right. Don't get me wrong, I'm no financial expert, and my favorite parts of the job will always be client work and scheming with my co-workers, but an incredibly valuable part of working for Ketner Group has been learning much more than just PR: I've watched a small business grow, gain and lose clients (AKA revenue), and adapt to survive in a time when our entire industry was changing beneath our feet.
In order to avoid writing a novel, I thought I'd pick just a few things that make me proud to be part of this team:
Creating the kind of atmosphere you want to work in
I will be the first to admit our office didn't always have the greatest atmosphere. Sure, it was a positive environment, but – being a small business – we just didn't splurge on things like new furniture or décor. With clients that were mostly out of town at the time, we didn't have many unexpected visitors, either, so the "image" of our physical office wasn't terribly important. Then, 2 things happened. We got more local clients, and we hired more women.
I kid, of course some men can have discerning interior design taste as well, but we banded together and little by little, began the Extreme Makeover: Office Edition. A few months and more than a few trips to Ikea later, we love the vibe of our office – and we discern the things that are and aren't important for us to splurge on. (The "are" would include Bath & Body Works hand soap, a never-ending supply of chocolate and La Croix waters, birthday lunches and champagne, and a new wireless conference phone.)
Working with the world's greatest boss and co-workers
I swear Jeff Ketner didn't bribe me to include this part – in fact, he doesn't even know I'm writing this, and when he's proofing it before it hits the blog, I'm sure he'll turn bright red. Seriously, though – I could not have asked for a better, more democratic, respectful, and kinder person to work for. He has somehow found that elusive balance between being "one of us" and being our fearless, respected leader. 🙂
Jeff is motivational in a way that makes us all truly care about the company and all of our clients. Well, maybe we're like that anyway, but he keeps us going at all times and gives us what we need to get through the occasional hard day – like a small Nerf gun so I can play sniper around the office, a surprise lunch order, or fresh cookies. He also abides by the most basic and essential rules of small business, a tendency less common than it should be: Don't run up a line of credit. Always pay your employees on time, and be open and honest with them regarding the financial health of the company. Build real trust and accountability with your employees. I know unforeseen things can happen, and certainly not every business that has gone south has been because of poor business decisions or practices, but we all feel good knowing that Jeff has proven over 20 years of owning his own business that he has quite the business acumen and is always pretty right on in balancing frugality and caution with sensible risk.
The outstanding chemistry we've built in our office is no accident, either. I've had a hand in every hiring decision we've had since I came on, and our last two interns went on full time and have been with us for three and 1.5 years so far – so we must be doing something right! While talent and skill are obviously a top concern in our hiring, we are at the size where we still have the incredible privilege to hire people we feel are a good "fit" with all of us. Thus far, we've been right 99% of the time, and it makes a world of difference. I have always felt comfortable being completely myself around co-workers, and I realize how lucky we are to have that.
As of this fall, I have started my Master's degree in Social Work, so I only call Ketner Group home a few days a week – but every time I walk in, it sure does feel like home. And while the career possibilities in front of me are exciting, vast and varied, I know I probably won't find another job that feels quite like this ever again.
UPDATE: How could I forget to mention that we just announced our official 20th anniversary today? Happy birhthday to Ketner Group! The photo at the top of this post is from our super fun 20th anniversary party. Check out the press release for more info.