Your time is limited. There's no need to put extra hours into projects when simple tactics can help you get more done.
It's the dream right?
When it comes to content, this dream is easy to turn into reality. By creating one long-form piece of content–whether an eBook, whitepaper or research report–, you give yourself a base to work with. Simply adapt that content by editing it down into a wealth of resources that extend your reach and allow you to achieve a wide variety of goals.
The long-form content adaptation equation
To adapt a piece of long-form content into a variety of resources, follow these steps:
Write one long-form piece of content.
Incorporate three custom graphics.
Publish it as gated content on a landing page.
Create three abstracts for three byline articles based on the content, pitch each abstract to a unique trade publication; write if picked up. If your bylines aren't placed, publish these articles to your blog and/or as LinkedIn articles.
Create and pitch two-five proactive pitches inspired by the content to targeted media.
Once you're done, you'll have created the following pieces of content:
One long-form piece of content
Three custom graphics
One landing page
Three articles
5 simple steps for adaptation
Origami Day: why this content plan works
Earlier this year, we worked with Origami Day to help them create a communications plan. During our sessions, we discussed what Samantha Lane, time management coach and creator of Origami Day, refers to as a "content extraction plan."
As an organization expert, she encouraged us to share our strategies for repurposing long-form content with the world. Thank you for inspiring this blog, Samantha!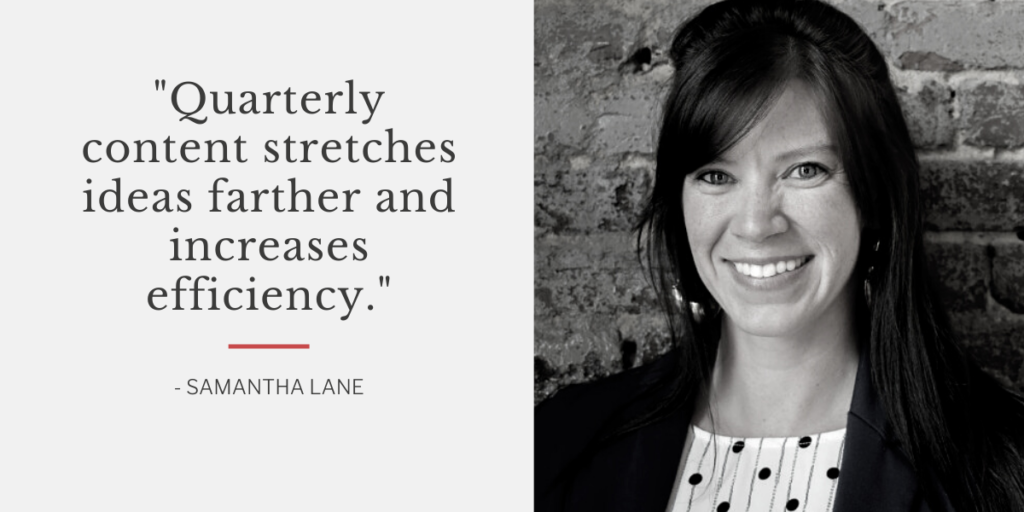 "Quarterly long-form content was a huge victory in fixing bottlenecks in my business. Knowing that 'batching' is an effective way to accomplish more with less, I was already creating content around monthly themes. However, Kirsty helped me see the value in zooming out to quarterly themes and long-form pieces of content," said Samantha.
"This was such a good way to stretch ideas even farther and increase efficiency even more. I love being able to set four themes for an entire year, write four long-form pieces, and use those for 12 months' worth of value for my customers. Not to mention, it's a great foundation for anyone considering starting a blog or writing a book."
Let's talk content
Ready to give the content adaptation plan a try? If you're having trouble getting started with long-form content on your own, we offer a free, thirty-minute consultation that may help your wheels start turning! Just contact us.