Cowgirls (and PR Professionals) Don't Cry: A True Story about a Weekend in Bandera, Texas That I Will Never Forget
As we speak, my rear end and thighs are still smarting from my weekend trip to a local Cowboy Ranch located right in the heart of the beautiful and vast Texas Hill Country. My husband, Darrell, and I had been long overdue for a weekend getaway to celebrate our 7th wedding anniversary. Darrell was determined to plan the entire trip but being the thoughtful person he is, asked for my opinion on what I'd like to do. Thinking outside of the box, I said that it would be fun to go somewhere "where we could ride horses." Famous last words!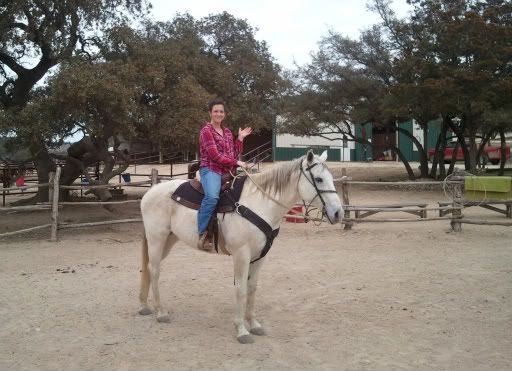 This brings us to Friday night and our arrival at the ranch. After check-in, we made our way up to our cabin which, gasp, didn't have a TV! I also quickly realized that we had zero cell phone reception. No biggie, I can handle being away from civilization (aka my work email) for a day or two. Heck, I'm a born and raised Texas girl, being adaptable is in my blood. Let's do this.
We woke up Saturday morning, ate a fantastic country breakfast of biscuits and eggs at the ranch's dining hall, and met our fellow ranch-goers – Jersey, Maverick and the Minnesota Twins*. We were ready to start our day at the ranch! While sipping the last of our coffee, in walks our ranch hand, Dish*. Dish was stuck somewhere between Larry McMurtry's Lonesome Dove and reality. He was dressed in all the necessary cowboy gear (hat, spurs, scarf around the neck) and completed his ranch hand look with a classic handlebar/horseshoe-styled mustache. We soon learned that Dish was not very good at telling jokes, and by that I mean made several inappropriate comments to me, Jersey and one of the Minnesota Twins. For example, and I take the liberty of EXTREME paraphrasing, "Ma'am, the saddle horn is not your husband's……so don't grab on to it like it is." You get the idea. But, again, I'm a Texas girl and can deal with this so-called cowboy.
Fast forward to roping lessons, where Cowboy Curly*, the owner of the ranch, taught us the proper way to rope a pretend cow and a barrel – yours truly was having a hard time with the concept and I ended up only roping myself. Cowboy Curly clearly knows the concept of the weakest link, aka me, and proceeded to single me out and constantly yelled at me for doing it incorrectly. But, I'm a true-blue Texas girl and kept saying, "No sir, those aren't tears welling up in my eyes. Those are my allergies." That was my story, anyway. I eventually learned how to flip my wrists correctly and even got a chance to rope the pretend cow on my horse. Yee haw! Continue reading →