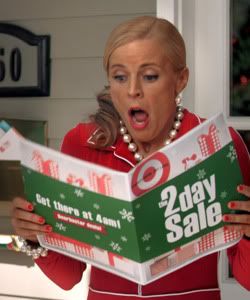 Hands down, Christmas is my favorite holiday of the year.  And it is just around the corner – the holiday lights, the Christmas carols, the yummy smells of apple cider, Christmas pine, and peppermint! My 6-year old daughter is already giddy with excitement wondering what Santa will leave for her under the tree (she's hoping for a surfboard and an Apple iTouch) and I'm teaching my 2-year old how to sing Jingle Bells. This weekend, I will be decorating my house from top to bottom in green, red, and gold, and my husband will be up on the rooftop hanging up the Christmas lights.  I'm so excited!
And then, there is the Christmas shopping. Cue the dramatic sound effect – Dun, dun, dun!!!
Don't get me wrong, I love Christmas shopping and I really don't mind the crowds like my husband does. But sometimes it can be a very overwhelming process because I am, for the most part, the lone shopper for my little family of four. (And before you judge me, I realize my little "problem" qualifies for #firstworldproblems.) This year is proving to be even more stressful – and here's why:
This year we will be celebrating Christmas in Dallas, so my husband and I will need to plan carefully which presents to bring in the car with us and which ones (i.e. Santa's gifts) to have shipped to Dallas.
My 6-year old daughter has already given me her Christmas list of about 30+ items on it, plus all of the items that she has circled in the Toys R Us, Target, and Walmart circulars. I've been able to whittle it down to about 10.
One more thing about my daughter – she's discovered the American Girl Dolls.  Lord help me.
My budget: My husband is a big-time penny pincher and really "encourages" me to stay within our allotted budget.  The problem is that I'm really bad about sticking to a budget.
And finally, as a working mommy of two, my time is limited. Looking at the calendar, I see that I have less than four weekends to complete my holiday shopping. Can I have a glass of spiked apple cider now? Continue reading