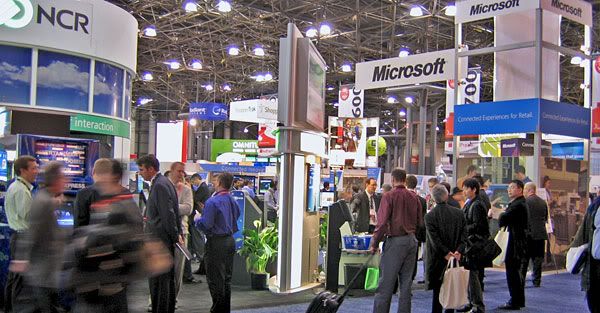 For all our non-retail clients and friends who may not be familiar, NRF – the National Retail Federation – hosts its annual conference and expo the second week of every January. The Javits Center bustles with two jam-packed days of exhibit halls that seem to go on for miles, keynotes from some of the world's preeminent retail executives, live demos of all the latest and greatest retail technology, and of course, lots of parties. And this time, it all seems just a little more significant – the show coming up in January will mark the 100th year of the NRF conference.
For many of our clients, NRF is the most exciting time of the year – and even though it can be chaotic with last-minute prep during the holidays, we love attending NRF each year. Not only is it a blast, but it's the only time we get to see many of our non-local clients face-to-face all year.
As of this writing, there are just under 100 days left until Christmas. And if you work in retail technology, you know what that means – once the last presents are unwrapped on Christmas Day, you'll have 15 days until NRF begins. The race is on.
If you think consumers have it bad seeing holiday décor pop up in stores earlier and earlier every year, just imagine how soon retailers have to start thinking about the holidays – basically, as soon as the last gift is unwrapped, planning for next year's peak holiday season begins. Similarly, each year the preparations for retail technology's biggest show start a little earlier. We've seen NRF-related emails for several months now, and our clients have been actively working on NRF strategies for months, and marketing is kicking into high gear. Chances are, your planning is well underway by now ­– but here are a few PR tips to keep in mind in the run-up to NRF.
Don't save your announcements until January. Most vendors spend months planning their NRF announcements. But why cram all your news into a three-day period? We counsel our clients not to save everything until NRF but rather to adopt a release strategy for before, during and after the Big Show.
Announcing significant customer wins and new technology in the months leading up to NRF is a great way to build momentum going into the show and to trumpet your successes to prospects. During the show, your news faces stiff competition from hundreds of other press releases, yet one or two newsworthy announcements can help drive booth traffic and create a buzz during NRF. After the show is a good time for announcements, too; editors' inboxes will be a lot less crowded, many of your competitors will have emptied their arsenal of news at NRF, and your news will have room to breathe.