Turning the elements of the best dessert recipe into a guide for making the perfect PR campaign proposal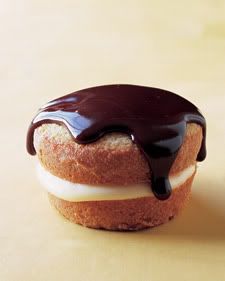 I'm a brand new wife with a brand new husband. After 5 years of "testing the waters," we dove into the marriage pool just last month. Everyone knows the best thing about getting married is getting presents, obviously (insert laughter here, drum beats and cymbal crash).
We registered for lots of baking toys, including glass cake pedestals, cupcake tiers, handheld mixers and pastry displays. Over the long Easter weekend, I started making my dessert cookbook, which contains recipes from celebrity chefs for the best New York style cheesecake by Emeril Lagasse, Boston cream pie cupcakes by Martha Stewart, Chocolate Intemperance flourless cake by Austin's own Jeffery's restaurant (a secret recipe) and many other delectable delights.
Upon organizing each sinful recipe, I noticed a commonality among them – other than the fact that all of them had my sugar-craving radar spiking off the charts. Each chef claimed that their recipe was the best recipe and all because they've made it unique by adding a special ingredient, baking it at an unusual temperature, or serving the cupcake sandwich-style with the cream spread across the middle instead of piped into the center.
In my professional life, I am not a pastry chef; I'm a public relations practitioner. However, I can use the secret to making the 'best ever' dessert recipe as a model for designing the perfect public relations campaign proposal.
Just as a baker wouldn't try to win over an events planner with a simple vanilla cake with buttercream frosting, a public relations professional shouldn't propose an "ABC, 123" PR campaign. There are box cake mixes you can buy at the grocery store, as well as "PR: Do it Yourself" books you can get at a bookstore. Businesses come to PR agencies for help because they're looking for that extra know-how they can't learn-how. The next time you're lucky enough to be considered for becoming a company's PR agency-of-record, take the time to hit pause on your email machine, blink a few times, crack your fingers and get started on this recipe.
Cook Time: As long as it takes and in as less time as possible (PR pros who charge by the hour will appreciate this).
Yields: A long lasting, resounding message, high return on investment and a happy client.
Ingredients:
Cake:
Research
Creativity
Examples
Proof
Frosting:
Directions:
Cake:
Research, research, research! Consider this your preheating step. Research your prospect's business from top to bottom. Understand their industry terminology, get to know their clients and quickly analyze their competitors. You'll want to blow them away with how much you know about their company – with the way you can talk about their company, you may as well have already worked with them for months!
Turn the heat up and combine your research ingredient with the creativity – all of it. And this recipe calls for a lot of creativity. While you'll want to include all of the common PR ingredients, which we call "block-and-tackle PR" (press releases, media lists, analyst briefings, etc.), you'll also want to propose ideas your prospect didn't expect. Don't just think outside the unimaginative box, think outside the room the box is in. They'll appreciate it, even if they don't want to do it immediately. For example, New York Times tech columnist David Pogue details two of his favorite PR pitches that overflow with creativity, in which one is a personalized video pitch where the founders dress as Dorothy (Wizard of Oz) and Cher. What could be better than men dressed as female icons to get someone's attention? You can bet it did.
Stir your examples ingredient into your batter. Now that you have such creative and exciting ideas, put them into mini PR campaigns. Instead of outlining tasks you can do, describe entire campaigns you can launch. Showing your prospect a menu of items is helpful, but a PR-challenged engineer may not be able to understand how to use them to achieve a specific goal, which could overwhelm the individual. Showing them several campaign examples allows them to see what the finished product could look like, earning you a little more trust.
For the last ingredient in the cake, beat in the proof. You can talk, talk, talk all day long and cake batter just won't rise. Back up your proposal with proof that you can do a great job. If you have happy clients, prove it. If you have solid relationships with editors and analysts, then prove it. Get testimonial quotes and use your best references for optional contacts. Another helpful form of proof is showing campaign results. Cut out the client names and specifics and detail the results of a few successful campaigns. In PR, this is called "reporting" and it's a powerful way to show positive return on investment.
Frosting:
Prepare your frosting, your sparkle, your glow. Even though there would be no cake without the cake bread, everyone knows the best part is the frosting. Just as the frosting on the cake is the only thing you see before you taste the cake, your image is the only thing your prospect sees before they let you work for them. So you better make sure your image is finger-lickin' good. Would you be drawn to a sheet cake with piping that says, "Choose me if you want" when it's hidden in the shadow of the three-tier decadent cake that reads, "I'm the cake of your dreams"? Liar. You'd be drawn to the amazing cake because you want to be amazing, too. Your prospect will compare your image to what they're searching for in themselves. You must impress them with presentation – delivery method, branding and professionalism – to get them to taste your cake. Make sure to highlight your prospect's existing image branding in your proposal – don't overshadow them with your own logos and color schemes. Also keep in mind that although you may have an appealing image, if the cake doesn't taste good, they'll find out very soon. So make sure your image reflects the outstanding work that you do. A sheet cake could easily be a three-tier cake with a little bit of creativity.
Once you've frosted your cake, don't be afraid to add a dash of persuasion to the finished piece. Sending your prospect the PR campaign proposal is only half of the battle. Find that perfect balance of follow-up emails and invitations to coffee so you can continue the proposal discussion, but avoid being too pushy and annoying. Complete silence after sending the proposal is a huge mistake, so work on being persuasive in a positive, unassuming manner. Find an attractive way to say, "I am the absolute best agency for your campaign – hands down, no one can do what I can do for you."
Once you've signed with your new client, your recipe is complete. Slice, serve and enjoy.
Fellow PR pros, be you a fresh spring chicken or a seasoned steak, take this recipe and put it in your PR cookbook. Hopefully, it will teach or remind you to make more than a vanilla cake when chasing your next campaign proposal. I don't want to, but it begs to be said: Be sure that your proposal really "takes the cake."