Turning the elements of the best dessert recipe into a guide for making the perfect PR campaign proposal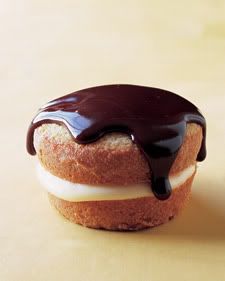 I'm a brand new wife with a brand new husband. After 5 years of "testing the waters," we dove into the marriage pool just last month. Everyone knows the best thing about getting married is getting presents, obviously (insert laughter here, drum beats and cymbal crash).
We registered for lots of baking toys, including glass cake pedestals, cupcake tiers, handheld mixers and pastry displays. Over the long Easter weekend, I started making my dessert cookbook, which contains recipes from celebrity chefs for the best New York style cheesecake by Emeril Lagasse, Boston cream pie cupcakes by Martha Stewart, Chocolate Intemperance flourless cake by Austin's own Jeffery's restaurant (a secret recipe) and many other delectable delights.
Upon organizing each sinful recipe, I noticed a commonality among them – other than the fact that all of them had my sugar-craving radar spiking off the charts. Each chef claimed that their recipe was the best recipe and all because they've made it unique by adding a special ingredient, baking it at an unusual temperature, or serving the cupcake sandwich-style with the cream spread across the middle instead of piped into the center.
In my professional life, I am not a pastry chef; I'm a public relations practitioner. However, I can use the secret to making the 'best ever' dessert recipe as a model for designing the perfect public relations campaign proposal.
Just as a baker wouldn't try to win over an events planner with a simple vanilla cake with buttercream frosting, a public relations professional shouldn't propose an "ABC, 123" PR campaign. There are box cake mixes you can buy at the grocery store, as well as "PR: Do it Yourself" books you can get at a bookstore. Businesses come to PR agencies for help because they're looking for that extra know-how they can't learn-how. The next time you're lucky enough to be considered for becoming a company's PR agency-of-record, take the time to hit pause on your email machine, blink a few times, crack your fingers and get started on this recipe.
Cook Time: As long as it takes and in as less time as possible (PR pros who charge by the hour will appreciate this).
Yields: A long lasting, resounding message, high return on investment and a happy client.
Ingredients:
Cake:
Research
Creativity
Examples
Proof
Frosting: