Grocery continues to be the healthiest, most rapidly changing segment in retail today. Grocery and essential retailing were the bright spots in retail during COVID-19, and that trend is continuing.
The most dramatic shift, of course, has been the surge in online shopping. Research from our client Mercatus and Incisiv found that online grocery sales will reach $250B by 2025, a 60% increase over pre-pandemic projections. To support this, grocers are investing in e-commerce, fulfillment, omnichannel capabilities and other technologies at an unprecedented rate.
According to Progressive Grocer's 2020 Annual Report survey, grocery executives view new technology as a key priority, "Tech as a whole is top of mind for most grocers. When survey respondents were asked about the best investment their companies could make to be successful in the next five years, the top response was technology upgrades/new investments."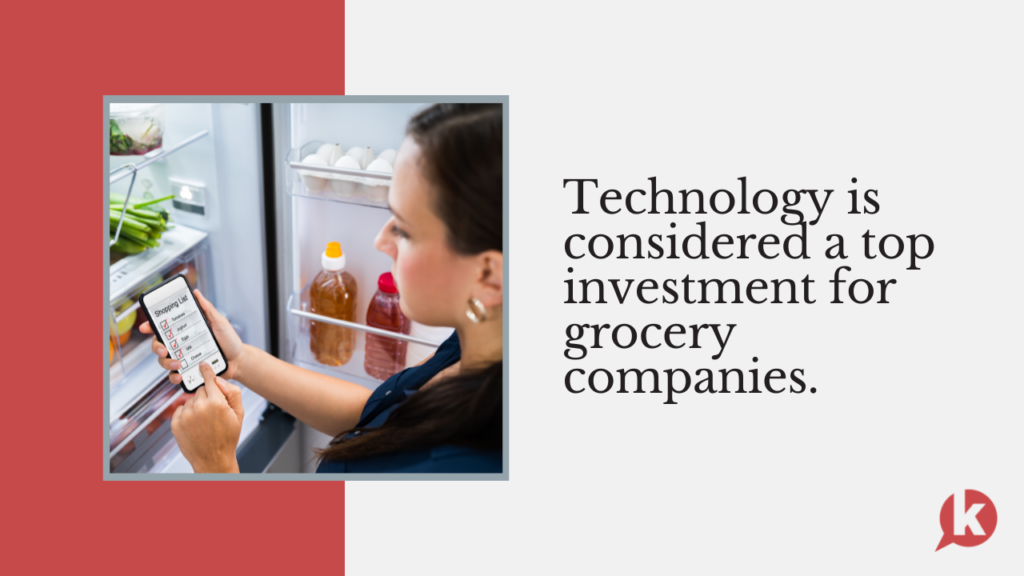 Many of our Ketner Group clients are at the forefront of these changes, with technologies that cover a broad spectrum of grocery retailing: e-commerce, personalized engagement, mobile advertising, shopper data, forecasting and replenishment, omnichannel POS and more.
The rapid changes in grocery represent a once-in-a-generation opportunity for technology companies, and a targeted, high-impact communications program can help them make the most of it.
Here are just a few communications strategies that are increasing engagement—and leads—for our clients.
Content that engages your prospects
With the disappearance of events and in-person prospect meetings, content became an even higher priority for technology companies, as we talked about in our recent KG Connects webinar, and this trend is continuing.
From blogs to case studies, thought leadership articles and long-form content, content (or owned media) allows companies to build influence and position themselves as an expert resource for prospects and customers. Companies can utilize content in marketing campaigns, sales outreach and social media, further amplifying its impact.
Content is a key pillar of the communications strategy for our long-time client GK Software. Our team runs GK's blog program in the U.S., and grocery technology is a recurring theme, as demonstrated by this blog on dynamic pricing in grocery. Bylined articles, such as this recent feature in Chain Store Age, are another excellent way to use content for thought leadership.
Media relations that drives leads
Media relations can be a game-changer for grocery technology companies. And while every company aspires to be featured in The Wall Street Journal, Business Insider and the like (and we've made that happen for many of our clients), executives also pay attention to the retail and grocery trade media.
As Kirsty Goodlett wrote in her recent blog, a single press release helped generate more than a half dozen leads for our client Birdzi. Retailers are always curious to know what technologies other retailers are adopting, so this press release about Birdzi's engagement with their customer Coborn's sparked a lot of interest—and demonstrated powerful ROI.
Press releases are just part of a successful media relations program. Our team monitors industry trends and news to keep their finger on the pulse of what journalists need, and we create the right strategies—proactive pitching, rapid-response commentary, interviews, background briefings and more—to ensure our clients are included in the most important industry stories.
Analyst relations that create influence
Given the dizzying pace of technology changes in grocery and essential retail, industry analysts such as Gartner, Forrester, IDC, IHL Group, RSR Research and others rely on communication firms to help them stay current on the changing technology landscape.
Adrienne Newcomb's how-to blog on analyst relations analyzed the importance of a disciplined, proactive analyst relations program. Analysts are key influencers with large retailers in particular, so time and effort here can make a difference in bringing tech vendors to the attention of analysts, and ultimately retailers.
I encourage you to check out our latest KG Connects webinar on analyst relations for unique insights from both the analyst and vendor perspective.
Grocery technology vendors must seize the opportunity
These are just three strategies that are creating success for our grocery tech clients. There is much more we could talk about: original research, digital media, sponsorships, virtual and physical events (live events are beginning to return as more and more people receive COVID vaccines), and more. We'd be glad to talk to you about the communications strategies that are working right now.
The point is, be sure to communicate. You may have a great story to tell, but if you don't tell it effectively and powerfully, no one will hear it. Grocery technology is arguably one of the biggest opportunities in retail right now, and the right communications program will help create success.