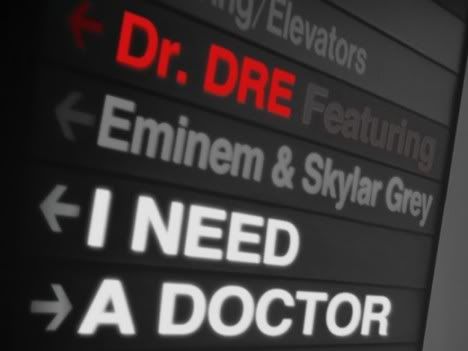 "I Need a Doctor" I Need A Doctor (single), Dr. Dre & Eminem © 2011
I'm a very musical person. If I'm not talking, I'm singing and if I'm doing neither of those, then I guarantee I have a song stuck in my head to which I'm bouncing noiselessly along. Lately, I've been on a hip-hop (rap) kick. Nothing gets me more pumped at the gym, into the work zone and easily through rush hour than emcees spitting their rhymes through the mic and into my headphones. And no one does it better than Eminem (warning: major celeb crush). Because this is what's in my head at the moment, I've taken the titles of some of my favorite Eminem songs as inspiration for a blog post to help companies experiencing common PR challenges.
Do you feel like you "Need a Doctor" for your company's PR program? I'm no doctor—and neither is Marshall Mathers, Eminem or his alter ego, Slim Shady—but we can use his beats to help us structure common PR challenges companies face every day.
[Warning: If you're offended by strong or suggestive language, avoid listening to the songs hyperlinked below.]
"The Real Slim Shady" The Marshall Mathers LP, Eminem © 2000
Is another company imitating your business' main messaging and value points? They say that 'imitation is the sincerest form of flattery,' but I just find it annoying. Let's combat this unoriginal behavior and have the 'real slim shady' stand up, please. If no one can do it better than you, they shouldn't be able to say it better than you, so take back what's yours with these steps:
Find a better way to say it: Refresh your corporate messaging to stay ahead of the copycats. Don't let follower companies ride off of your success—refresh your messaging and find new ways to talk about the great things you do.
Find new SEO terms: Search terms are always changing in frequency. If your competitors have caught on to the key words and it has become a little crowded, analyze your industry's SEO landscape to see what other terms your audience is typing into Google's box.
Call them out: Go on, point the finger. In a classy way. It's okay to say that you're the only company that provides XYZ to ABC in exactly this 123 way. Don't be afraid to describe why you're different (…or better) than your competition. Just make sure you have the proof to back up your assertions.
"No Love" Recovery, Eminem © 2010
Are your Facebook and Twitter pages lacking in the love department? If you are aching for more fans, "likes," and followers, follow these steps:
What are you saying? Analyze the content you're posting. If you're only tooting your own horn, lay off for a while. Post and tweet interesting industry articles or general questions to engage your audiences. Ex: What are you doing this weekend? Free #Starbucks drink for the person with the most interesting plans!
Engage to get visibility: For Twitter folks, "retweeting" and responding directly to people can go a long way in personalizing your online interaction with customers or prospects. Also, make sure to use hashtags whenever appropriate so that potential new followers tracking those interests see your updates.
The game is on: For Facebook folks, we've found that promoting competitions on Facebook can significantly boost your "likes." One of our clients hosted a YouTube video challenge and to qualify, participants were required to "like" the company on Facebook, first. They boosted their Facebook fan base by over 3,000 fans during this competition. Continue reading