I can't imagine a single person who would say they thought 2020 turned out like they expected. I certainly can't.
After launching our Nashville office last August, we had big plans for this year. While it hasn't turned out like we expected, I am grateful to say that the year has provided joy nonetheless.
I'm proud of our team for what we've accomplished and in that spirit, I'd like to celebrate some of the notable successes from this year, which include working with Launch Tennessee (LaunchTN), OhanaHealth, Origami Day, and launching the NTC Marketing Peer Group!
Welcoming 36|86 Festival and LaunchTN to the Ketner Group fold
One of our very first KG Connects featured LaunchTN's Van Tucker, now interim CEO, who joined us in June to share how to use radical candor to achieve business goals. After launching the Nashville office at 36|86 Festival last year, we had developed a nice partnership with the organization, which helps make Tennessee the most startup friendly state in the nation.
Little did we know that that event would spur an even more long-standing relationship and that just a few weeks afterwards we'd kick off working with LaunchTN to support 2020's virtual 36|86! Together, we increased awareness of the event with media, generated coverage and increased buzz.
With an incredible roster of speakers, we were able to ultimately secure coverage in publications across the nation and Tennessee. Some favorites? WWD wrote about a session by Ian Rogers, chief digital officer at LVMH. Gil Beverly, chief marketing and revenue officer of the Tennessee Titans, was interviewed by The Startup Life. And Van Tucker herself bylined an article for Retail TouchPoints on how retailers are coping with COVID-19.
"As a speaker for KG Connects, I experienced Ketner Group's creative thinking, enthusiasm for their work and master organizational skills," said Tucker. "Not to mention, they're just fun! I knew they would make a wonderful partner when it came to our media relations for 36|86 Festival and ultimately LaunchTN overall and my instinct was not wrong. We've been thrilled by the output of our work together and pleased that they equally consider Tennessee the perfect place for launching a new office."
Capturing coverage for OhanaHealth
We also had great fun this year working with Daniel Oppong, founder, OhanaHealth. When we initially spoke with him about his desire to do a media relations push around the next iteration of the company, we were excited to hear him talk about how the news sat at the intersection of three incredibly powerful themes from this year: healthcare, accessibility and employment.
Daniel is dynamic, driven and talented, so it's no surprise OhanaHealth is primed for connecting top talent with health companies poised to make a meaningful impact post-COVID-19. We were thrilled to help the company generate coverage in local and trade publications alike.
A few highlights? TechHR series covered the launch and featured a Q&A with Daniel. Local publications did the same, with the Nashville Business Journal publishing the launch and Urbaanite doing a feature on Daniel.
"On top of delivering fantastic and measurable results, Ketner Group was exceptional to work with," said Daniel. "They took the time to get to know me and OhanaHealth's PR goals, then designed and executed an intentional strategy that put the story I wanted to tell (with OhanaHealth) in front of the right journalists, which ultimately led to it being read by thousands of people.
"I didn't really know what I was in for, given that it was my first time formally working with a PR group, but our engagement exceeded my expectations and set a really high bar for what's possible when working with the right PR group. I'm a big fan of Ketner Group, and not only would I recommend them to other companies, but I hope I get to work with them again."
Don't forget our work with Origami Day!
Missed the news earlier this year? We had the pleasure of working with Origami Day to help them create a communications plan.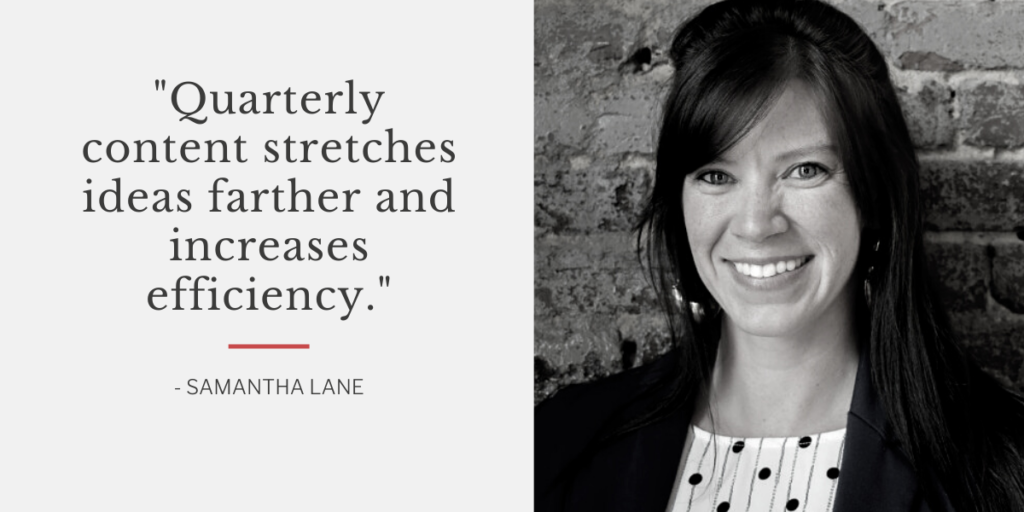 "Quarterly long-form content was a huge victory in fixing bottlenecks in my business," said Samantha Lane, time management coach and creator of Origami Day. "Knowing that 'batching' is an effective way to accomplish more with less, I was already creating content around monthly themes. However, Kirsty helped me see the value in zooming out to quarterly themes and long-form pieces of content."
Launching an NTC Marketing Peer Group
Another exciting effort this year? We became members of the Nashville Technology Council! We were thrilled to become a more integrated part of the technology community here in town, so when we learned that they didn't yet have a Peer Group for marketers we thought, well, what a better time to start?
Through the course of this year, we've had the pleasure of working with NTC and others in the community to kick off this group, which will seek to help members connect, learn, grow and give back. I'll be joining the committee as a co-chair alongside some other wonderful members including fellow co-chair Lane Harbin, director of marketing at Campaign Monitor.
Our very first event kicks off Friday Dec. 11 at 11 am, more details are coming soon!
Nashville is still growing
COVID-19 is not slowing down the growth Nashville has been experiencing over the past few years. In fact, we continue to see announcements regularly that are signs of the city's opportunity for big impact. Just last week, the New York Times' announced it is opening a Nashville bureau.
And Amazon's head of worldwide economic development, Holly Sullivan recently remarked, "We don't want to be the last tech company to announce a corporate office in downtown Nashville. We'd like to welcome other tech companies too so we can really build that robust diversity within the Nashville area."
These continued stories inspire us and remind us that we're just where we should be.